To more beach days, cool fruity drinks and wonderful company- particularly family!
A couple of months ago, when I received the amazing news that I passed the board exams, my parents decided that it was about time we spent some quality time and a well deserved break... and where else better to go to but the BEACH!?
They decided to vacay schmacay at
Imperial Palace
, an AMAAZING beach resort in Mactan, Cebu that is known for their water parks and countless activities that are absolutely DOPE. [feeling a little gangstah right now, so what? lol]
Meet my family:
Friends, meet my mom, my
younger
older sister, Casey and my normal self.
My beautiful parents, Cathy and Lander. Obviously, you can see where I got my cookyness from. This is a normal picture- believe me, there are worse ones. lol
[Neon colored crop top:
Papaya
| Butt short shorts: Thrifted| Ribbon bracelet:
Graffities Cebu
| Flip flops: Knock off Havaianas]
[Bikini: Rip Curl]
With my baby brother by the, what I liked to call, the Toilet Bowl slide. I can proudly say that I know what it feels like to be a fish flushed down the toilet!
Here are some pictures of their amenities that I got off the internet. I wasn't able to get decent shots of the place since it is best in an aerial view. So here are better shots instead: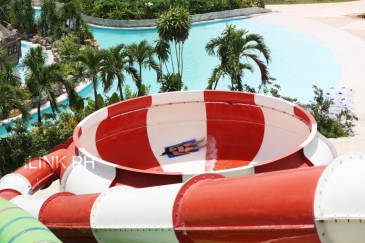 photos linked accordingly.
I'm rush blogging right now since the boyfriend is out sick. I realize that I haven't been so keen on content lately nor on blogging, in general and I promise to make up for it soon.
Hang in there, guys. And have a good summer!
-Issa